What Is A Metal Detectable O-Ring? Everything You Need To Know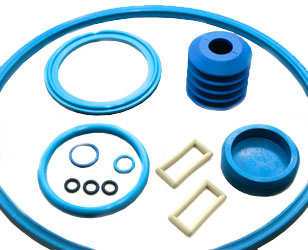 Metal detectable O-rings are essential for companies that use machines fitted with rubber seals that come into contact with the product.
In industries which have highly-regulated hygiene standards such as pharmaceutical, food, dairy and beverage, metal detectable elastomer O-rings will save you a significant amount of time, money and hassle.
Fitted with components that are identifiable by inline metal detectors or X-ray machines that are commonly used for safety procedures in a wide range of industries, when fragments made from metal detectable O-rings fall into a product, they are easy to locate and recover.
As a result, your productivity does not suffer. Metal Detectable O-rings can be identified in a fraction of the time it takes to conduct visual inspections. Therefore, you won't need to shut down the production line until the contaminant is located.
Detectable metal O-rings also give companies the opportunity to improve safety measures at each stage of the production line. By doing so you can prevent the possibility of having to recall an entire batch.
Why use Metal Detectable O-Rings
When rubber polymer applications are exposed to volatile temperatures, continuous vibration and corrosive chemicals, they naturally weaken and degrade. Eventually, fragments of rubber from seals and gaskets sheer-off and fall into the end product.
Whereas traditional O-rings are made entirely of elastomeric substances, such as natural rubber, Viton™, Nitrile or Silicone, metal detectable O-rings and seals are a new breed of sealing material that have been developed in order to meet strict regulations imposed on food and pharmaceutical industries.
Metal detectable sealing materials are detectable by standard in-line metal detector systems which are already in operation in the food, beverage, and pharmaceutical industries.
Fragments as small as 2mm can be identified and removed either manually or by magnetic separators. By reducing the risk of product contamination, metal detectable polymers meet the legal requirements for hygienic design of machinery and complies with FSA regulations to help protect product safety, and eliminate downtime and product recall.
Because metal detectable O-rings are such a straightforward approach and a low-cost investment, there are no better means to ensure product and package integrity is not compromised.
Types of Metal Detectable Polymers
There is a range of metal detectable materials available that have been tested to the highest quality standards and are proven to be suitable for the food, pharmaceutical, dairy, manufacturing and processing plants that use corrosive chemicals.
Nitrile Rubber (NBR)
Silicone (VMQ)
Fluoroelastomer (FKM/ Viton®)
Metal detectable sealing materials are a simple and cost-effective solution to prevent the contamination of products intended for human consumption.
NES supply a range of premium quality metal detectable and x-ray detectable rubber seals and O-rings.
There is a wide variety of sizes, colours and material specifications available so contact our friendly Sales team and we will advise you of the best products to meet your needs.