What Are Encapsulated O-rings and What Are They Good For?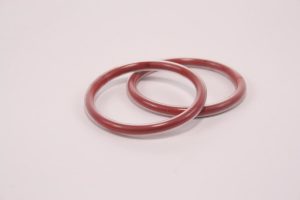 Encapsulated O-rings are specially developed seals which solve a common problem in many industries. Sometimes you need the chemical and temperature resistance of PTFE, but a PTFE O-ring wouldn't have the flexibility you need for compressive fluid sealing. Or perhaps you want a flexible elastomer but can't rely on the material to resist the chemicals you are dealing with.
An encapsulated O-ring brings the best of both worlds together. The outer jacket is made from Teflon, giving the seal high thermal stability and resistance to corrosion, while the rubber inner ore provides compressional and elasticity.
Types of encapsulated O-rings
Encapsulated O-rings can have two different types of core, which enables them to be suitable for different applications. The two types are:
Solid core: These are standard encapsulated O-rings which have either a silicone energiser ore or a core made from FKM, also known as Viton. FKM cores have excellent elasticity and a good compression set. Silicone has very much the same benefits, but because it is softer it has a higher standard of heat resistance. For very cold temperatures, a silicone core would be recommended as they remain flexible to a lower temperature too.
Hollow core: For applications where extreme elasticity is required, no core at all outperforms both FKM and silicone cores. This may come with a compromise in terms of compression set and recovery, but for fragile applications a hollow core encapsulated O-ring will perform well.
As well as having various options for the elastomeric core, the outer jacket of the encapsulated O-ring can be made in a choice of materials too. Most commonly, we make them with either PFA or FEP outer jackets.
PFA: To give it its full title, perfluoroalkoxycopolymer is excellent at resisting a range of corrosive chemicals. These include alcohol, naphtha, acid, petroleum and aromatic solvents. Compression set is low, and their operating temperatures range from -60°C to +260° Compared to FEP, they have higher mechanical strength and improved resistance to cracking and stress.
FEP: Fluorinated ethylene propylene jackets for encapsulated O-rings have very similar qualities to those of PFA. They resist chemicals, have low coefficient of friction and a low compression set. However, they are slightly weaker mechanically and have a narrower operating temperature range, of -60°C up to +205° Their service life is slightly shorter, but they are FDA approved and are generally lower cost too.
For advice on the right construction of encapsulated O-rings for your application, talk to the expert team at NES.
The Advantages of Encapsulated O-rings
As you can see from the description of the materials, encapsulated O-rings have excellent resistance to almost all types of media. They work in a wide temperature range and an be made from FDA approved materials to suit food and drugs processing applications.
Their non-contaminating material makes them ideal for use where hygiene is required. The chemical resistance of the materials also means they are a good solution for chemical and petrochemical industries.
The combination of the elastomer-like flexibility with the PTFE-like chemical resistance brings unique advantages to encapsulated O-rings over other types of seals.
Limitations of encapsulated O-rings
In general, encapsulated O-rings have many properties which make them a top choice for strenuous processes. However, there are some situations where they are not the best choice.
The thin outer jacket means they are susceptible to scratching, so should not be used in applications containing abrasive slurries or powders.
We find that encapsulated O-rings are generally best suited to static applications, or at best in slow moving rotary applications. Highly dynamic systems may not be best suited to the use of encapsulated O-rings.
Overall, the success of an encapsulated O-ring will depend on the right product being selected for the job. NES can help you choose the best product for your needs, whether that's an encapsulated O-ring or something else. We can manufacture custom sizes and profiles to suit your application too; just talk to our team for further information.