Signed, Sealed, Delivered. Inflation Never Looked So Good.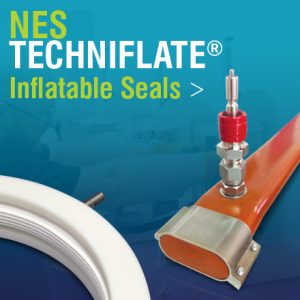 As a dedicated solutions provider, NES takes a proactive approach to developing and manufacturing unique solutions for our customers. We have built a reputation as specialists in low to medium volume, high value projects and have become the go-to supplier for complex and highly detailed profiles.
Our Inflatable Seal, NES TECHNIFLATE® brand is a superb example of our innovative and flexible approach to delivering exactly the right solutions for the application.
Used in diverse applications across a wide range of sectors including Food & Beverage, Pharmaceutical, Aerospace and Defence and Energy and Power, NES TECHNIFLATE® prides itself on being extruded and manufactured in-house, allowing full dimensional control.
A recent project highlights not only NES TECHNIFLATE® product performance, but also the problem-solving skills and insight applied to deliver a solution which significantly enhances operational procedures for the customer.
The Project : To facilitate the maintenance of a hydro-turbine shaft in which the seal was required to withstand a 3 metre waterhead pressure.
The Challenge : The customer faced costly operational downtime due to the requirement to fit a seal round the disconnected shaft. This could be avoided if a seal could be retro-fitted to the turbine shaft without disconnection. But who was up to the challenge?
The Solution : NES thrives on pushing the boundaries of innovation, exploring new solutions and problem-solving for our customers; our Engineering Team couldn't wait to get their hands on this project!
A development programme was fast-tracked and we developed a split inflatable seal to wrap around the connected shaft and come together in a seamless transition.
Extruded and comprehensively tested in-house at NES, the sealing solution was to benefit from further innovation when our engineers applied NES patented membrane technology to each end of the seal length, removing the need for a plugged end design.
The advanced membrane technology gave full inflation without any transitional sections and, when fitted, proved to be completely watertight under inflation.
Just six weeks after the original enquiry, our customer was signing the order, delighted with the solution to a problem which had been both operational and budgetary. Not a problem any more; the inflatable seal has been connected to an automatic control system and consistently performed in both wet and dry conditions with no downtime.
A case of signed, sealed and delivered – by NES and NES TECHNIFLATE®